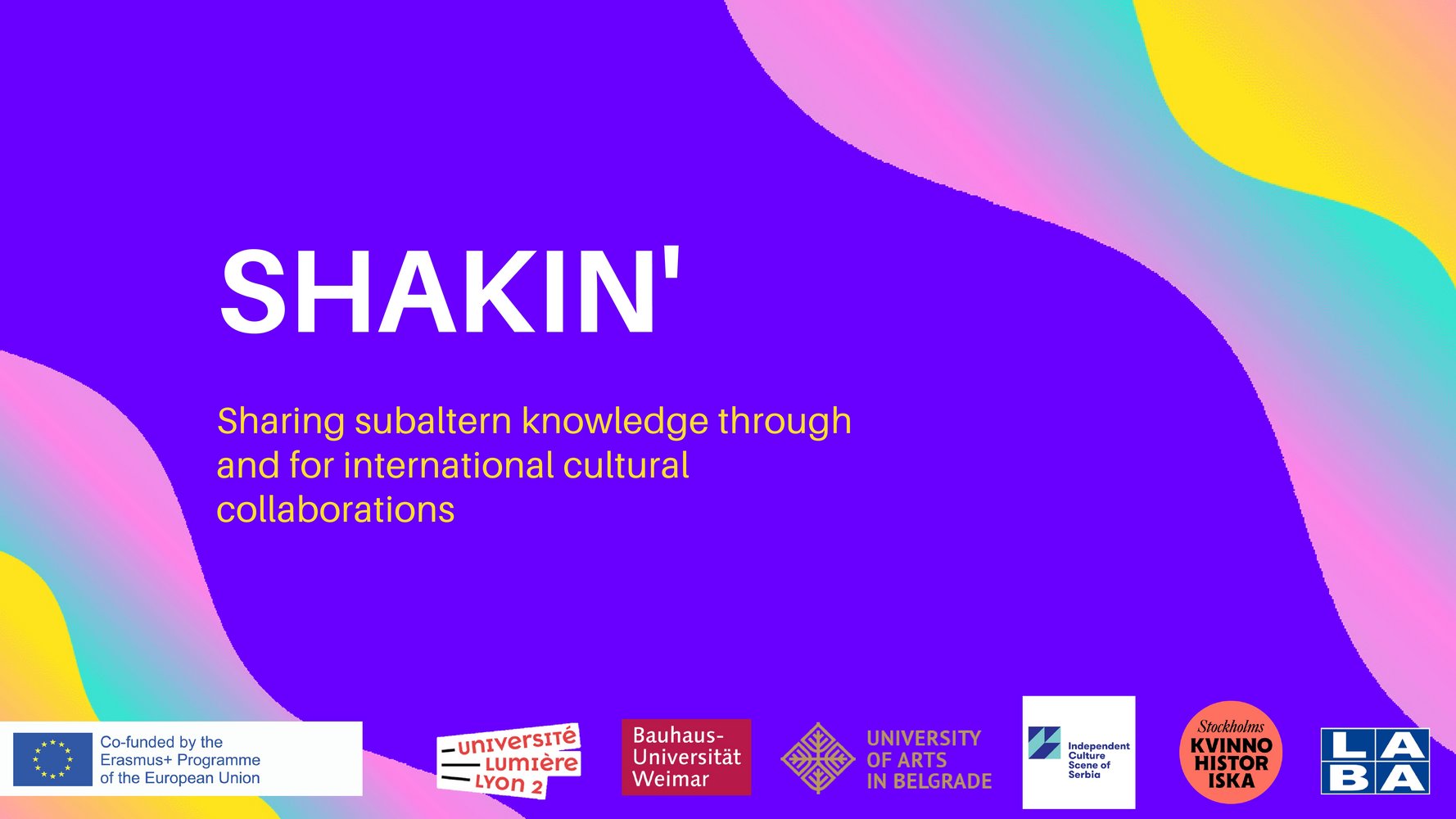 "Sharing subaltern knowledge through international cultural collaborations" (SHAKIN') is a European collaboration supported by the EU's Erasmus+ program: Strategic Higher Education Partnerships for Innovation.
The project is carried out by six partners from four countries (France, Germany, Serbia, Sweden): three universities (University Lumière Lyon 2, Bauhaus-University Weimar, University of Arts Belgrade) and three cultural organizations (Association Independent Cultural Scene Serbia, Stockholm Museum of Womens' History, le LABA), all of them being internationally recognised in their domain of activity.
We, the partners, join our expertise to find new ways to think, work and collaborate that address crucial contemporary challenges affecting European culture fields in order to provide students with adequate professional ethos for the jobs of tomorrow. We aim to engage with perspectives, knowledges, methods of learning and knowledge sharing which are on the margins of the current dominant ways of schooling and professionalizing in culture and media fields.
Indeed, market logic, populist policies, migrations and globalization, ecological transition or digital technologies affected the contexts of culture management, policy, research, and teaching in various tectonic ways over the last decades. But teaching and training in culture fields have largely maintained narrowly professional, nation-based assumptions of culture, politics, participation and education. As a result, learning processes are not just ill-fitting to provide relevant knowledge and "well-equipped" professionals, but are insensitive to excluded, marginalised and oppressed voices and life experiences of today.
To address these issues, we aim to:
Connect and promote diverse forms of knowledge (situated, embodied, academic, etc.) in educational as well as professional environments
Professionalize students with new forms of cultural consciousness, nurtured by theoretical tools and endorsed by practical skills
Support international cooperation that questions project logics and is attentive to practices oppressing knowledge and experiences which don't fit the dominant scope
To this end, we develop:
A digital handbook. It collects and displays examples of research methodologies which address dominant ways of producing, transmitting and practicing knowledge in arts and culture and experiment with alternative ways.
A toolbox. It gathers tools which go beyond the dominant ways of teaching, learning and educating to activate and use these methodologies in more sensitive learning environments.
A platform. It supports young professionals who want to continue or engage in international projects which include subaltern perspectives.
The handbook, toolbox and platform will be developed with the students of Master degrees of our 3 universities, but will ultimately be resources for all types of cultural professionals, be they researchers, educators, students, post-graduates, experienced managers, that want to expand their professional practices by opening up to subaltern perspectives and alternative ways of managing cultural projects.
In order for them to use and implement these tools in their environments we develop a short-term curriculum, gathering tools and experiences of the three productions.
To follow the process and activities that lead to these productions, you can subscribe to our Newsletter or visit https://welcome.univ-lyon2.fr/shakin